Its time to choose your wedding flowers but where do you begin? There's so much to decide it can become daunting. But there is really no need to panic! Here are some useful steps to guide you on your journey.
Your Florist
It's worth researching your wedding florist, and nothing is as good as word of mouth. Speak to family, friends, and friends of friends. A good florist will listen to your ideas and guide you, not bully you, and work with you in creating your ultimate look.
Outfits
This is pretty major. Your outfits tend to dictate your colour scheme and style. Choose a bouquet to compliment your dress, your height, your style and of course colour.
Budget
If you are looking for a Meghan Markle style floral arch, then expect the price tag of a princess to go with it. Be realistic. This doesn't mean you can't have the floral arch, it does mean not having it two-foot-thick with exquisite English garden scented roses might need a rethinking. Having a budget not only allows you to stay on track, but helps your florist too. Have an idea of what you think you may need in terms of floral items. This is an average of list of items ordered for a wedding:
A Bridal bouquet
Flowers for 3 bridesmaids
Flowers for 2 flower girls
7 button holes
2 ladies corsage
A floral arch
7 table arrangements
A top table floral arrangement.
Reuse!
Why not use the arrangements for your tables in the ceremony room? Have vases ready in the reception room for your bridesmaid's bouquets. These can not only add to your decoration, but when back in water prolongs their life. You could also give table arrangements away as gifts at the end of the night. Just make sure they only take the floral arrangements and not the candelabras they sit on! Don't give away the florist's vases either!
Have fun – Groom's love Lego! Incorporate that into his button hole. Do you have some quirky or sentiment jewellery? Then add it to your bouquet. Your florist will enjoy something a little different to work with.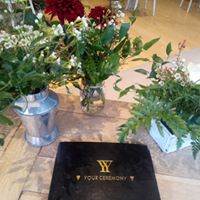 Rebecca I'Anson, Administrator and Deputy Superintendent Registrar