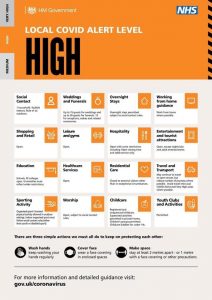 Good morning lovely people. After yesterday's announcement from the UK government that Cheshire East has been given (we can't say awarded!) the COVID alert level of 'high' I think we all sat there and thought OMG what next!
So this morning, we are so so happy to wake you with the news that in our part of the world, nothing has changed. Ceremonies can still happen, and receptions can still happen, up to the maximum numbers previously set by the government. 15 including the couple but excluding registrars and any professional external suppliers. As always this is a maximum number based on COVID social distancing and so you should check with your venue about their maximum numbers allowed.
Above is the graphic as published by the government, but safe to say nothing has changed – hoorah!
Have a lovely day
Love
Your Ceremony x