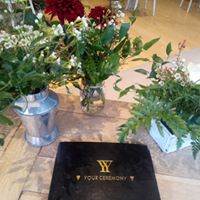 Hello everyone
This is a sombre message and one we are truly sorry to be the bearer of.
If you haven't already seen or heard about the PM's statement to parliament this afternoon regarding new restrictions to come into force in our fight against the spread of COVID-19, we are sorry to tell you that these new restrictions do have an impact on marriages and civil partnerships.
The government have taken the decision that as of Monday 28th September 2020 the maximum numbers permitted to attend a ceremony are to be reduced from 30 to 15. This will include the couple, your registrars (there's two of us) and any other supplier (photographer etc).
This new restriction does not take the place of any existing restrictions in terms of 'bubbles', mandatory face coverings and social distancing. All these will still need to be complied with.
The government have also said that we should assume that these restrictions could be in place for up to six months should there be no improvement in R number and infections. This takes us to March 2021, which seems so very far away and a whole year after we first started with this.
These new restrictions mean that you may want to have a conversation with your venue to see what the best way forward is. We realise that this could be looking at new dates and for some of our lovely couples this might not be the first time you have had to make this heart-breaking decision.
If you do decide that a new date is the way forward, speak with your venue in the first instance, and then contact our team to check our availability too. We are only contactable by email at this time and will prioritise emails in ceremony date order. We have couples due to tie the knot with us in the next few weeks and will need to speak with these as soon as possible. Our email is ceremonysupport@cheshireeast.gov.uk. We aim to respond to your email within 3 working days.
In the subject line please quote Your Names, Your Venue and Date of your ceremony – this will help us find your booking quickly.
Planning your Big Day should be the happiest time ever and we are truly sorry that you are having to make these decisions. As always, our team is here to help as much as we can and really do look forward to celebrating with you as soon as we all can.
Love
Your Ceremony x