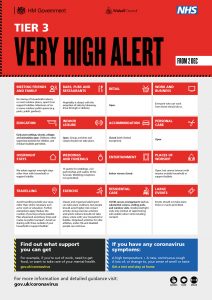 You may have heard the Health Secretary's COVID briefing at 3pm regarding changes to Tiers in England as of 00:01hrs 26th December 2020 (Boxing Day). Many more counties throughout the South of the country have moved into Tier 4, and I'm sorry to say that Cheshire and Warrington along with other counties in the North have now been moved from Tier two to Tier three.
What this means for you and your ceremony:
The good news is, is that ceremonies can still take place in Cheshire East (up to the maximum of 15 including the couple) in COVID safe venues. Unfortunately however, Tier three restrictions state that celebrations and receptions are not permitted. If you were planning a small celebration after your ceremony, we advise that you contact your venue as soon as possible.
For couples whose area has now been moved to Tier 4, this means that for you, you should not be travelling at all, however weddings in exceptional circumstances are still permitted in Tier 4 areas, with a maximum of 6 people. If you decide to travel out of your Tier 4 area, they bring your Tier 4 status with you, and so your ceremony can only be held in exceptional circumstances and with a maximum of 6 people.
All we seem to do at the moment is pass on bad news, we're sorry, we just thought it best to confirm the information to you as soon as possible. Remember, if you need to speak with our team, we're here, to listen, to support as much as we can and do whatever we can to help us all through this horrible horrible time.
Love
Your Ceremony x