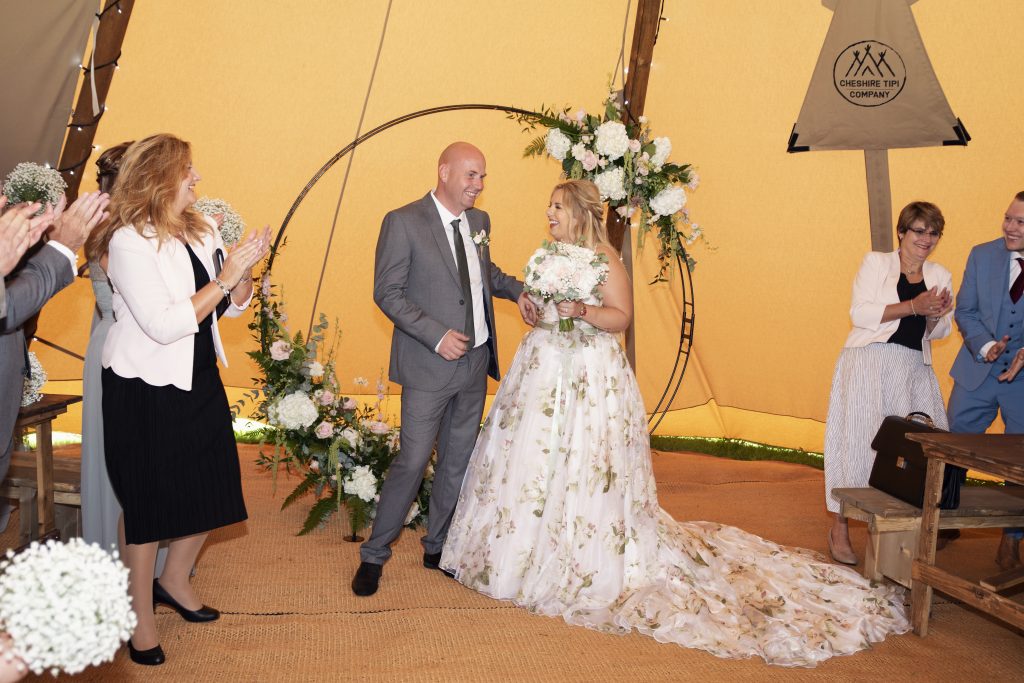 Back in the summer, our team were honoured to perform two ceremonies for Cheshire wedding photographer and friend of Your Ceremony, Charlotte Talbot. She booked a legal ceremony with us for a Friday morning in the Register Office, and then our Michelle went out the next day to perform a meaningful and personal celebration ceremony in a Tipi, on Charlotte's parents land. This is what Charlotte said of her experience:
We didn't want a typical wedding, as a wedding photographer and a DJ we had already decided that we wanted something pretty unusual and with the help of the ladies at Your Ceremony we managed just that!
Wedding day one was such an amazing ceremony. We only needed a legal ceremony so we could have our dream wedding the next day, however that didn't mean it couldn't be special. Michelle made it the most wonderful ceremony. It was intimate with only close family and we didn't even exchange rings as we wanted to save everything for the day after. It was short sweet and absolutely perfect!
Day one was just incredible, so I had high hopes for wedding day number two. This was the real deal. We are so lucky to have been able to arrange a wedding in my parents field in Shavington, with the wonderful Cheshire Tipi company LTD setting up a three hat tipi in the middle of a 10 acre field. We had the most amazing floral arrangements decorating the Tipis by Ruby doodles florist and a gorgeous floral hoop at the alter. Michelle was our registrar again for that day and I am so pleased she was, she made us feel so comfortable and like we had known her our whole life! The ceremony was just perfect. I couldn't have asked for anything more from Michelle and her team. As we had legally been married the day before this was a celebration ceremony and we still received a certificate for that as well as our marriage certificate! Lucky us we had been married twice in two days!
We wanted to work with the best suppliers in Cheshire including Cheshire east council which is why all our suppliers were friends of ours!
If anyone is looking at doing an extra special wedding day please don't hesitate with contacting the ladies at Your Ceremony. They went above and beyond to make sure that this could happen for me and my now husband. Nothing was too much trouble and it was the perfect wedding days.
Tipi is supplied by Cheshire Tipi Company
Photographer - Alex Lewsley photography
Videographer- Lavalette productions
Hair - Charlotte from blonde hair salon for bridesmaids, Sam Bache owner of Blonde hair salon for Brides Hair
MUA- Lucinda Ellen MUA and Lauren from Olivia's in Sandbach
DJ- Kev Lovell
Florist- Ruby doodles
Dress- Along came Eve wedding shop in Chester
Personalised robes- Colour Me pretty
Equipment: Function event hire