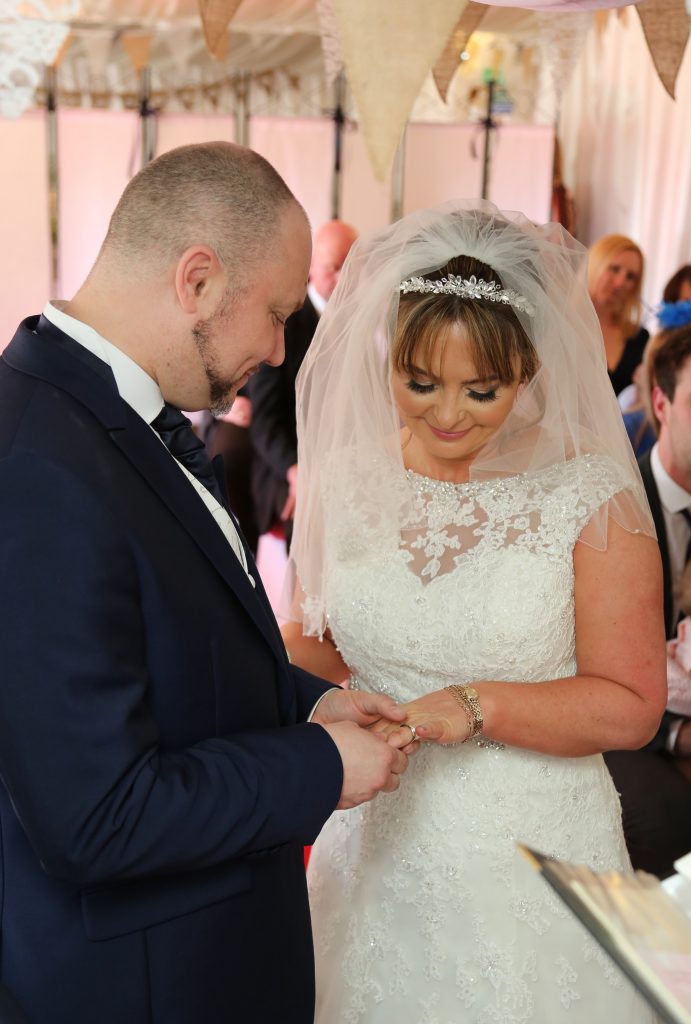 I am sure this is a questions you have been thinking about to plan your big day?
There are so many different factors to planning your special day and the ceremony time can be a huge decision as this effects the whole day for you and your guests, and to me I think it depends of what kind of day you are looking to have and also on the venue that you have 'fallen in love with'.
There are two most popular time slots that we get asked to reserve all the time, and they are 12noon and 2pm; however we do also offer 10am, 4pm & 6pm
But personally I think 12noon can be the best time –
If you have a venue where you can stay the night prior or arrive earlier on the day to get ready, then 12 noon is a sure winner for this. If you can stay the night this is a great opportunity to relax with the main party or family and friends; maybe have an informal buffet, canapes and cocktail party or an informal dinner to help everyone get to know each other and relax.But remember not to many cocktails the night prior!! 'Just a couple to help you relax and get a good night's sleep'.
And if the venue has spa facilities why not reserve a treatment or two, to help you and the party unwind.
Then to the big day itself, if you are staying the night prior or arriving early to get ready with the hair, make up etc. It is always a good idea to ensure you have some breakfast or food prior to the ceremony as its going to be a few hours before the celebration meal and we don't want any fainting or you feeling unwell as you want to savour every second of the day.
So to the ceremony, in front of all your friends and family!
As you enter the room with all the gasps and wow's of how amazing you and the party looks, you are marrying the person who you love and want to spend the rest of your lives together. You will say your vows and words to each other and this is such a special moment as your pledge yourselves to each other. Then it's time to sign the register (legal bit). Once this is complete you are then ready to celebrate your special day with your friends and family and time for the all-important refreshing reception drinks starting around 12.45pm
You then have the time to have some amazing images of the day from the professional photographer you have reserved to capture all those details and it's a great time to use the features of the venue for those great shots; and most couples opt for around 1.5 to 2 hours for photos and can be advised by the photographer.
A nice touch prior to the all-important celebration meal is to greet all your guests, whether this is just the 2 of you, or the top table. This is a great way to say 'I have spoken to everyone' and gives a great opportunity for your guests to congratulate you both.
Then time to make your grand entrance into the room as a big announcement is made, your guests will be excited to great you with a huge cheer and a round of applause.
The meal and speeches –
So you have made your grand entrance and reached your seats, so do you feed guests first or do you get the speeches out of the way a; dilemma for lots of couples !!
It's always a good idea to think of who will be making a speech, dad, mum, best man, best woman, groom ,bride, siblings; the list can be endless but are they comfy to speak in front of people ?
Some people like to get the speeches done prior to the food so they can relax and enjoy the meal after all you have paid for them to enjoy the food.
Some people like to do the speeches after the meal and this is quite traditional and can sometimes work well if the people making speech perform better with a full tummy and a glass or 2 of wine to help them relax!
More and more couple seem to be doing a twist on both so may give guests a course or 2 then have the speeches and can work well after the main course and prior to dessert. It's always nice to have a bit of break to make room for dessert.
So the meal and speeches are done!
This is a great time now for your guests to relax, freshen up ready for the dancing and party time.
And a great time for the 2 of you to have some 'you time' as you will be surprised how quick the day goes and now you can have some time for each other weather you relax in the great surroundings of your amazing venue or back to the bedroom to kick off those shoes for an hour, or get your photographer to capture some intimate moments of just the two of you away from all the guests.
This time is also a great time for the venue to change the room from the day to the evening and create that all important 'party atmosphere', especially if you have reserved a band or DJ as this gives them time to set up equipment and do sound checks so creating a different atmosphere from the day.
So it's time to party!
Once you have had the time to gather your thoughts and rested your dancing feet, it's time to greet your evening guests, around 6.30pm which is always a good time as most guests usually arrive 30-45 minutes later than the start time, so the party gets going from 7-1.15pm.
Then onto the first dance this can then happen around 7.30-8pm dependant on the routine.
A good time to then feed the evening guests would be 8.30-8.45pm as it always seems to then get them in the party mood.
Then it's time to party!!