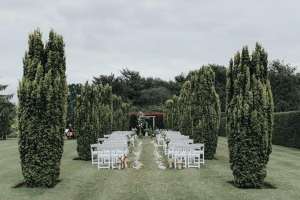 So, as summer peaks it's head just around the corner bringing with it better weather, our thoughts turn to lovely outdoor ceremonies. In England and Wales we can't currently legally marry couples outside (it's the law!) no matter how good the weather is.
So theres a few things to think about
Speak to your venue about whether they have an area outside that is approved for ceremonies. A ceremony on the lawn means that you need go inside to complete the ceremony (not a biggie, just something to bear in mind), or they might an outdoor structure where you can legally tie the knot. Or they might just not have anywhere that they feel is suitable at their property.
We all know the good ol British weather doesn't like to play ball on an hourly never mind daily or weekly basis, and the weather can change in the blink of an eye. When planning your Big Day, you need to be realistic about an outdoor ceremony – it might not happen. Probably the best approach is to aim for an indoor ceremony, and if on the day the weather is glorious – outside you go (with the blessing of your venue team of course – they're the ones who will need to move chairs!)
Your venue has the responsibility of making the decision as to whether your ceremony is inside or outside at least one hour before the ceremony time. Us registrars are protective of our register, but you'll know by now that the recent legislative change means there is no book to keep dry. There are of course a heck of a lot more important things to consider apart from the now non existent book, not the least of all, you in all your finery. Your dream might be to marry outside, and your guests will be sat waiting for your arrival at the ceremony for maybe 20/30 minutes before the ceremony starts. Think about your grandparents sat getting cold, or your mums hair do (she's been up for hours with you, being coiffed and pampered) and maybe even smaller guests who, too get cold easily and start to fidget. The weather of course might be absolutely glorious and you could have plumped for the hottest day of the year, this brings its own challenges. One way to try and beat the weather is maybe to think about a canopy (a marquee without sides) for your ceremony, it will protect you and your from the odd raindrop or gust of wind and keep the blazing sun (fingers crossed) from grandads head!
We're not putting a dampener (excuse the weather pun) on outdoor ceremonies, we too think they're fab, we all love the thought of being able to 'I Do' in the sunshine, we just need to be realistic.
Remember, speak with your venue if this is what you really fancy and then let us know too by dropping the team a quick email ceremonysupport@cheshireeast.gov.uk and we can let your registrar know they might need their more sensible shoes and warmer jacket.