Pear Tree Farm
Welcome To Pear Tree Farm
​We offer a small and private retreat for bespoke and intimate weddings.  Run away for a couple of  nights with a couple of friends to share your special day, with non of the fuss.  Alternatively, if you want a few more friends and family, but still want it small, Pear Tree Farm is a perfect choice for a relaxed bespoke micro wedding, just as you imagined it.
​We will also consider a small number of larger scale weddings in the 9 acres of farmland adjoining the house.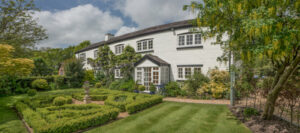 Two and a Few
May be you have decided that you just don't want a big fuss or lots of stress,  but of course, you still want romance and magic.  Here at Pear Tree Farm we have the perfect secret and private place to elope and say "I do" for  just the two of you (we can provide witnesses)or bring another cherished two along to stay for 2 nights to share and celebrate your secret wedding day.
Exchange your vows in our beautiful bespoke Summerhouse in the lee of an old weeping willow tree next to the open fields and countryside.  In the garden, the individual rooms provide plenty of photo opportunities, with a dedicated rose garden, a parterre and a clematis covered tunnel leading you down to the duck pond with trickling waterfall and decking
Perhaps on a winters day, you would prefer not to venture outdoors and marry in the licensed Gold Room in the house,  with its ornate hand painted gold ceiling and sumptuous silk and velvet drapes. stand hand in hand in the doorway looking across the gardens or by the fireplace with a crackling log fire.
​
.Afterwards perhaps a celebration lunch or dinner can be arranged in our beautiful dining room or may be afternoon tea in the garden.
NB We can accommodate more guests for a small ceremony or celebratory meal by arrangement.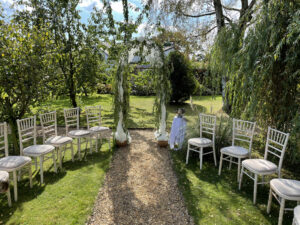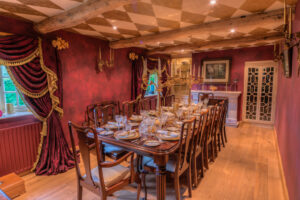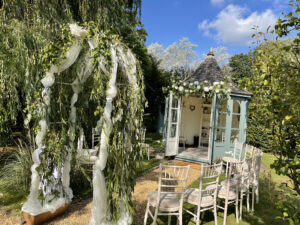 Create Your Own Outdoor Ceremony
Do you dream of a less formal, but more personal ceremony, away from it all, in the great outdoors.  Perhaps you would like to  include  romantic symbolic moments, readings, music, may be handfasting or other touches which hold  meaning and importance to you both.  Having dealt with the formal and legal requirements of your marriage, you could let your imagination run wild and create a very bespoke ceremony with a celebrant to officiate in our small lawned paddock with its pretty copse of trees and shrubs at one end.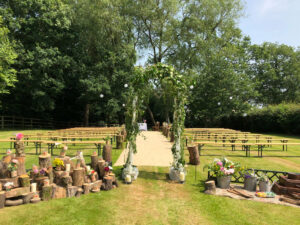 The Fields of  Fun
Five fields lined with beautiful mature oak trees, the perfect spot to hold your celebration. A blank canvas for you to create your own bespoke party in your own unique style. We have a wide variety of preferred suppliers whom we work with to help create your ultimate dream wedding or celebration party, from tipis and marquees to professional musicians, florists, fireworks and even world class aerobatic flying displays.
Pear Tree Farm, Marthall Lane, Ollerton, Knutsford, WA16 8RR