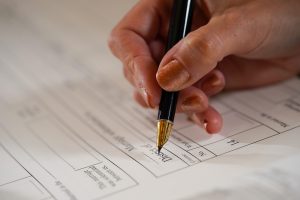 Us registrars have the most fabulous but funny old job. Lots and lots of what we do has been done in the same way since 1837 when civil registration began. We still use registrars ink (it never fades….ever), marriages must take place with open doors (they can't take place in secret) and we still formally need to ask if anyone at the wedding wants to stop the couple marrying. Something is changing though….for the last 184 years every couple marrying have had their marriage recorded in a marriage register, that they then sign too, but from 4th May the marriage registration system will change, whether you have a civil or religious ceremony.
Instead of signing a marriage register on the day, you and your witnesses will sign a marriage schedule, a document that has all the details about your marriage including the names of both your mothers (this is a first too, up until now, only fathers details were recorded). When you give notice of marriage, you will be asked for details of your parents and, if appropriate, you can also add step parent details to the schedule, the registrar who takes your notice can explain this in more detail.
The other change is that because the marriage will now be registered on a central electronic registration system, there'll be no more hand written certificates for the bestman to lose on the day of your wedding. It does also mean that if you're disappearing on honeymoon straight after your wedding, you won't have certificate to take with you, so make sure all your travel documents and tickets match! You can check that here
Once you're married and your marriage has been registered, we'll send your certificate/s out to you by post within 7 working days.
This change doesn't alter the way in which you give notice of marriage, and if you've already given notice, there's nothing more to do. If we need to contact you, you can rest assured Andrew and the team will be in touch, and don't worry for all those important' signing' photographs, we've got a rather swish looking 'Your Ceremony' folder
So just as a reminder, before 4th May, you'll be signing in a register and just dads details will be included, and then from 4th May it'll be a schedule and mums details will be included as well.
As always, if you need us its ceremonysupport@cheshireeast.gov.uk
Love
Your Ceremony x